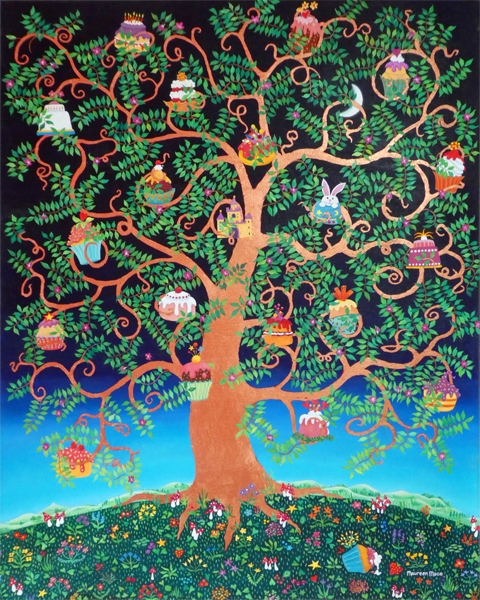 Cake Tree
Silvanite Trees Gallery
Acrylic and oil on linen canvas
31 x 25 inches / 80 x 65 cm
Original for sale £1800 (GBP)
I had wanted to paint a cake tree for a very long time. I just like the idea of wandering over to a tree when I wanted a a little treat.
I loved painting all the different kinds of little cakes. When my children were small I would ask them just before their birthdays what kind of cake they wanted and I would proceed to make it. The first one was a Noddy cake and I took it to my son's nursery school when he was 4. Noddy was lying in a bed covered by a patchwork blanket. It took me all night to colour that blanket but it looked amazing.
After that the most memorial ones for my son were a tent (complete with cotton guide ropes) and a block of flats. My daughter wanted the usual dolls and butterflies but when she was seven she used to make her own concoctions which were more experimenting with ingredients rather than making a cake sculpture but later on she made some really fancy cakes for friends for which she got paid.