Privacy Policy
Privacy
Maureen Mace values the protection of your privacy and treats your personal information with the highest levels of confidentiality. Information that you supply directly, such as through general enquiries, is used only to provide the best service to our customers and personal information is always stored securely. All data collected, whether directly or indirectly, is used only by Maureen Mace and is never provided to any other party without your prior permission.
Cookies
Cookies are very small text files that are stored on your computer when you access certain web pages. These text files contain no personal information but are generally used to help in improving the experience of a website. Most websites you visit will use cookies, often for a variety of reasons including web analysis and shopping baskets.
We do not store any information that you may input nor can we assign activity to an individual person. We do not use cookies for any marketing or tracking purposes.
Your rights
You can change the settings within your browser to refuse cookies. However, this may hinder your experience of our website. If, however, you continue to use our site without making these changes we will assume you consent to us using cookies as described above.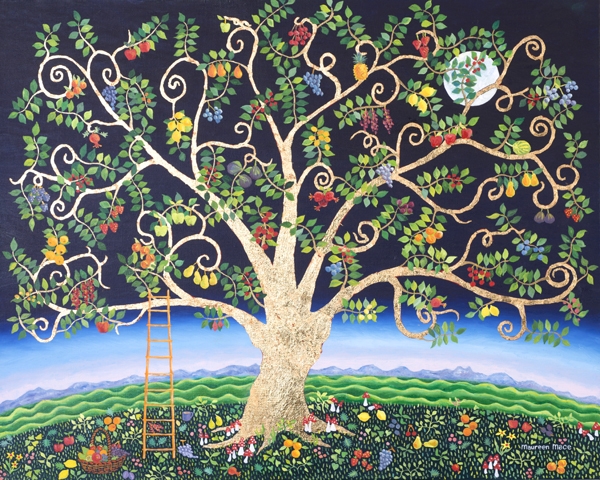 Cornucopia
Cornucopia derives from Latin in the early 16th Century and is a symbol of plenty usually consisting of a goat's horn overflowing with flowers, fruit or nuts.
In my version a tree grows in a part of the world where no-one lives and yet it produces many different fruit amongst its' golden, curly branches. The foreground is packed with flowers and fungi and in the distance are rolling green hills and a mountain range.
A ladder leans against the tree and someone has been there to fill the basket....