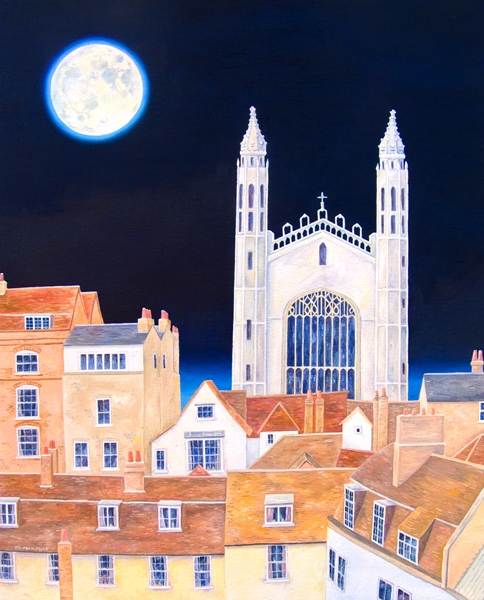 Beyond King's Parade
One of the very best views of Cambridge and definitely not in any visitors' guidebook.
This painting is the view from the Guildhall showing the rooftops of student accommodation and shops with part of King's College Chapel towering above them. David's the brilliant second hand bookshop and St Edward's Church are just out of sight.
I paint detailed, dream-like images in oils on canvas which incorporate rich night skies and a shining moon. Stories inspired by the detail and pattern of medieval art, tapestries and my imagination. My work is very influenced by the wonderful city of Cambridge where I live.
Photographs can never do justice to my paintings as they change when the light catches the silver or copper leaf. If you would like to view my actual paintings please contact me to arrange a visit to my studio. My work can also be seen at exhibitions: look out for the Along Your Street Exhibition at Byard Art in June 2019, Cambridge Drawing Society exhibitions in April and October 2019 as well as Cambridge Open Studios 2019.