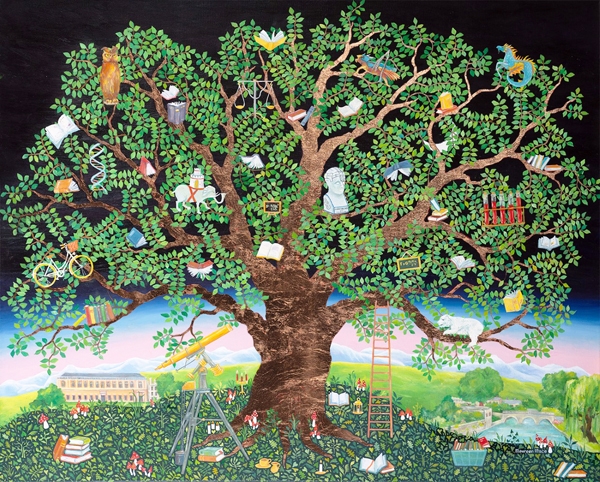 Tree of Discovery, Cambridge
This is the third of five paintings that will hung at the 'Along Your Street' exhibition at Byard Art between 31 May and 1 July 2018.
I love Cambridge. I love it's quirkiness and the amount of people that have PhD's in all sorts of weird and wonderful subjects even though they look just like everyone else. I love the buildings, although I don't know what happens inside them and I love the museums.
Some time ago I painted a 'Tree of Cambridge' which had an assortment of images from town and gown. My 'Tree of Discovery' delves a bit deeper. It is another puzzle so I won't give a list of what the images represent but I will have a competition during this year's Cambridge Open Studio 2018 where you can win a limited edition print.
I have been invited to exhibit 5 new paintings at Byard Art and this is one that can be seen for the first time at the lovely gallery on King's Parade.
I paint detailed, dream-like images in oils on canvas which incorporate rich night skies and a shining moon. Images inspired by the detail and pattern of medieval art, tapestries and my imagination. My work is very influenced by the wonderful city of Cambridge where I live.
Photographs can never do justice to my paintings as they change when the light catches the silver or copper leaf. If you would like to view my actual paintings please contact me to arrange a visit to my studio. My work can also be seen at exhibitions: look out for the Christmas Cracker Exhibition at Byard Art from 10 November to 24 December and I shall also be taking part in a Winter Open Studio at 5 Church Street 24 & 25 November 2018.